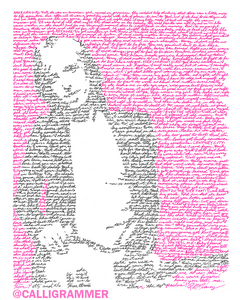 Dimensions: 9" x 12"
Well she was an American girl...

This colorful handwritten print depicts the cover of Damn the Torpedos, the third studio album from Tom Petty and the Heartbreakers.

Calligram (n) - An image composed of words. This particular print was written in 10 hours over the span of two days. All prints come WITHOUT a watermark.

All art is designed and produced by Sara and/or Reilly and printed in the US. Large posters are shipped safely and securely in a rigid cardboard tube, small posters in a rigid envelope.